Get married on Långholmen, Södermalm in Stockholm – different and captivatingly romantic! Our headwaiter will be glad to help you plan for the big day, so that everything is perfect.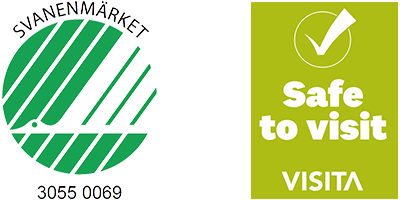 Our menus are composed for our guests with the greatest care. With the best ingredients and loving preparation, we guarantees that your choice of menu will be something exceptional. To accompany your meal, have our sommelier choose the tastiest drinks. Special wishes for special food, e.g. vegetarian, can of course be arranged.
Please contact us for more information about weddings at Långholmen.
LÅNGHOLMEN'S BANQUETING ROOMS
This is our most beautiful room, as if made for the perfect wedding celebration. This part of the building, which is also called Alstavik, is characterised by the same manor house style. Why not enjoy the aperitif in one of the snug rooms on the way to the banqueting rooms. Or, when the weather gods allow, in the Inn garden, framed by the green of Långholmen. At the same time enjoy the exciting history, and wander through the centuries with one of our guides.
HISTORY
Our classic banqueting rooms have their roots in the 17th century and are located in the palace-like manor house that the master builder Jochum Ahlstedt raised for himself and his family. The period's tasteful excess can be recognised today in the crystal chandeliers, the large windows and the warm, light colours. Perhaps our most beautiful room, as if made for the perfect celebration.
GOOD TO KNOW…
Långholmen's Banqueting Rooms can take up to 90 guests, laid for eight people per table. When tables are laid in E form, we have room for 64 sitting guests. Please note that a minimum of 50 guests is needed to book this room. All our cover prices include the hire of the premises until midnight. For an extra hourly cost, we can close later, however no later than 3 a.m. If more space is required, there is an option of hiring extra rooms above the banqueting rooms. After dinner we would be pleased to arrange a bar and to book a cover band/DJ or other entertainment.
WEDDING ROOM
Do not allow chains of marriage to jeopardise the wedding night. We offer you our fine wedding room package, which will give you a captivating experience, to say the least, as well as chilled champagne, fresh fruit and in the room.
Please contact us for questions, tours and booking by phone 08-720 85 50 or email: restaurang@langholmen.com.