Together with food, drink, the surroundings as well as our knowledgeable staff, we dare promise that we can make you dreams of a happy banquet come true. Our banqueting rooms are just as suitable for company events as they are for private parties. We can organise a band, troubadours, dance etc. Everything that is needed for a great party.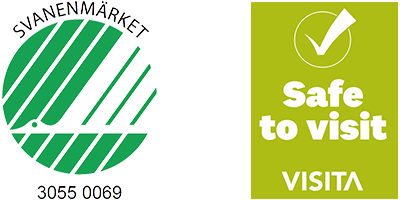 THE BANQUETING ROOMS TODAY
The whole building is done in the manor house style. Why not enjoy the aperitif in one of the snug rooms on the way to the banqueting rooms. Or, when the weather gods allow it, in the Inn garden, framed by the green of Långholmen. At the same time, enjoy the exciting history, in the heart of Stockholm, and wander through the centuries with one of our guides.
HISTORY
Our classic banqueting rooms have their roots in the 17th century and are located in the palace-like manor house that the master builder Jochum Ahlstedt raised for himself and his family. The period's tasteful excess can be recognised today in the crystal chandeliers, the large windows and the warm, light colours. Perhaps our most beautiful room, as if made for the perfect celebration.
GOOD TO KNOW
Långholmen's Banqueting Rooms can take up to 90 guests, laid for eight people per table. When tables are laid in E form, we have room for 64 sitting guests. Please note that a minimum of 50 guests is needed to book this room. All our cover prices include the hire of the premises until midnight. For an extra cost, we can close later, however no later than 3 a.m. If more space is required, there is an option of hiring extra rooms above the banqueting rooms. After dinner we would be pleased to arrange a bar and to book a cover band, DJ or other entertainment.
MENU
Please contact us: restaurang@langholmen.com  for more information and banquet menues.